VISIT OUR SHOP AT CROMER IN NORFOLK. A REAL ALADDINS CAVE!!!
Little Gems is a true Aladdin's Cave of Crystals, Fossils & Gemstones!. Our shop in CROMER near Norwich in Norfolk is one of the best stocked Gem Shops in the country. In our wholesale and retail sections on the web site, we specialise in supplying unique and unusual gifts, raw crystal specimens, and crystal jewellery. Whether you are interested in Crystal Healing, Geology or just want to own beautiful natural and unique items we deal with both through our shop or mail order. We personally select the items for you through this site.
We are a family run company helped by dedicated staff. All of us at "Little Gems" have one thing in common, our love of crystals and fossils and a desire to help all who have a similar passion. As a Direct Importer, our Crystals and Fossils are hand-picked at the source where possible from South America and around Europe to increase the number of unusual pieces we hold and to ensure that the Crystals are sourced and companies deal with their employees ethically.
We would love you to visit our Shop, (there is a short YouTube video link below} please note however that the stock for the website is not all held in the retail shop and equally well there are many items available in the shop that also haven't made it to the website yet!. If you are visiting to view an item that we list on our website ring a few days before and we will try to pull the items you want to view from our warehouse to the shop for you to look at.
find us at -
2a Mount Street,
Cromer,
Norfolk,
NR27 9DB
Directions
From A149/A140 Norwich Road, follow the road into town turning left around a sharp bend. The shop is on the right-hand side. From Holt Road, travel through town via a one-way system, turn right into Mount Street. The shop is on right.
Coach park: Approximately 5 minutes walk away in main Cromer car parks
CROMER SHOP OPENING HOURS
*** coronavirus update ***
*** our Cromer Retail Shop is now reopened***
*** temporary times are listed below ***
Monday 10-4pm
Tuesday 10-4pm
Wed. 10-4pm
Thurs. 10-4pm
Friday. 10-4pm Sat
Sat 10.30-4pm
Sun 11-3.30pm
Additional hours can be booked outside face times on the following link.
PLEASE VIEW ADDITIONAL HOURS HERE
Please ring 01263 519519 for updated hours
our Crystal Warehouse is open to booked appointments only Mondays Thursdays and Fridays to wholesale bulk buyers or virtual visitors via Zoom, Whatsapp or FaceTime Appointments.
Previous opening hours

Mon to Sat 10am to 5pm.
Sundays - 11am to 5pm summer.
11am to 4pm in the winter.
Open all Spring and Summer Bank holidays.
Closed Christmas / Boxing Day & 27th Dec and New Years Day.
---
CRYSTAL WAREHOUSE OPEN Days
**Coronavirus Update Our Normal Format for Warehouse Opendays has been suspended*
*Modified Warehouse Days may be set with booked slots to make the visit safer *
Little Gems is proud to host our latest Crystal and Gemstone Open day. There will be a Huge range of Crystals, Fossils and Gemstone Jewellery on sale and show from around the globe on display including many new items from our NEW BRAZILIAN SHIPMENT that we are still busy unpacking.
Plus FREE light refreshments to add sparkle to your day ! As usual our warehouse is heaving with many new Crystal Goodies.
There is plenty of FREE Car Parking to the front and rear of our Warehouse.
To Find us: We are situated just to the side off the main A140/A149 just 2 miles South of Cromer, at the North Norfolk Business Centre (Sat Nav NR27 9RQ)
.
---
---
FACE BOOK PAGES - LITTLE GEMS Ref: FACEBOOK
For more informal updates why not add us to your face book friends... we are listed under littlegemscromer
---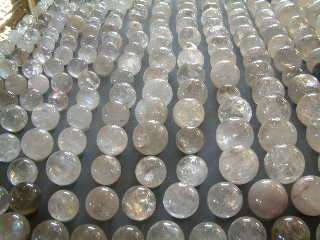 ABOUT US
Little Gems is a Aladdins cave of Crystals Fossils & Gemstones we have a shop in North Norfolk which is visited by customers from around the country. We specialise in supplying unique and unusual gifts whether you are interested in Crystal Healing, Geology or just want to own beautiful, natural and unique items.
We aim to bring you a unbeatable range of crystals gemstone jewellery and Fossils at Competative prices we do this by our regular buying trips around the uk and World buying where we can direct and where possible handpick the best grade.
We deal with both our shop or mail order through this site. Please take time to explore our site and if you can't find what you are looking for, please feel free to phone us as there are many lines not yet listed on this site and more lines being added every week!
Danny and Gail Hickling
Little Gems
FOR MORE ABOUT US VISIT OUR ONLINE BLOG AT THE LINK BELOW
INTRODUCING THE LITTLE GEMS TEAM
PUT A FACE TO THE VOICE AND FIND OUT WHO TO AIM YOUR QUERIES AT.
---
---
30 DAY MONEY BACK GUARANTEE*
We provide a 30 day money back guarantee on all unused products*. Simply send your unused goods back to us by registered mail and we shall refund your payment within 30 days.where "unwanted" orders are cancelled,
a refund will also be provided within 30 days of "cancellation"
N.B. unwanted goods may be returned at the consumer's cost, but that if they are not, a deduction will be made from the refund to cover our direct costs of collecting those goods.
If you receive goods that are damaged due to delivery simply email us at: [email protected]
and we will gladly arrange a replacement. Please mail the damaged goods back to us by recorded delivery, and include a post office receipt for the postage. We will then credit you for this amount and replace or refund th goods.
In accordance with the European Distance Selling Regulations 2000, you also have a seven day "cooling off" period in which you may cancel your purchase for any reason, starting the day after you receive your goods. Simply send your unused goods back to us by registered mail and we shall refund your payment within 30 days.
This in no way affects your statutory rights as a consumer
30 day money back guarantee exludes stone polishers (unless returned in a sealed box or faulty) and earings due to hygine reasons
---
DELIVERY DETAILS & TESTIMONIALS
We send UK orders either Post Office or next day*# carrier which ever is cheaper
*next day carrier is avialable to mainland UK only and unfortunately does not cover certain areas of Scotland
International Orders are usually sent through the UK post Office by Air Mail
We deliver your order right away. We will normally send your order to you in four business days . International orders are generally received in under ten days.
If a order is placed between 9am Friday & Sunday 5pm our staff are usually unable to pick the order untill Monday and in normal circumstances we aim to have this dispatched on the Tuesday by either Post Office or express* carrier which ever is cheaper
*next day carrier is avialable to mainland UK only and unfortuanattly does not cover certain areas of the Scottish Highlands
#express carrier aims to deliver NEXT DAY after pick up but can not gaurentee this at peak periods
Below are a few testimonials from our satisfied customers..
"I just wanted to send you a quick thanks for the fantastic crystals I
have just received, the orbicular jasper is simply amazing and the
charoite has a great vibe! not to mention the quick delivery".
"To date my experiences of internet shopping for crystals has not been
a good one at all, at last I have found a great way to buy the crystals
my little local shop cant supply - and they not only arrive, but they
arrive as described and happy" J.R.
"Wow - extremely fast postage! And well packed parcel, which I received this morning. Thank you so much for a pleasant transaction and for the speedy dispatch. The stones are beautiful - I bought them for my daughter and I know she will be very pleased with them" JJ
"Thank you so much for the beautiful pendants I received yesterday-what a
wonderful service you provide-how quick!!!
I can't wait to visit your shop and see what other gorgeous things you have.
Thank you again" I.S
"I would like to compliment you on offering an excellent service. I ordered my jeweler on 12/11 and received it on the 13th. I am really pleased with it and will consider ordering from you again and will recommend you to my friend and family" SE
"Just to let you know the cave arrived today and looks great!!!!
We are very happy with it so many thanks!" VL
"Just to say Thank You for my order which I received today, the amazing
Mammoth Bone sculpted face and the Smokey Australian Diamond.
All fantastic, you picked out a lovely crystal and the Bone face is magic."JC
"Thanks very much for the Crystals - they arrived Friday and now on display. They are great and am very impressed by the quality. We will definitely be coming to visit in about 6 week's time" P
"Hello, what a wonderful website you have, and your selection of crystals is fantastic. It is so good to get onto a website that has everything available and with so much detail"
"Just wanted to email you to say thank you for bringing me a few minutes of joy in my busy day" S.W.
"Just wanted to say thank you for getting my order shipped so quickly! I received it last thurs. And also, they are really amazing pieces, so thank you for that as well!!" KL
"The skulls arrived today and have surpassed all my expectations. They are truly beautiful. The lapis lazuli is an incredible colour and the carving is wonderful" S.N.
"Thank you for the delivery, beautiful. Beautiful as always keep up the good work" J.W.
"I have just received the kyanite blade and wanted to write to say thank you. From seeing the pictures on your web site, which accurately showed the crystal to its best, I knew this was the crystal I had been seeking. The quick well packed delivery has given more than I hoped and I am extremely happy" A.T.
"Thank you for all your help and knowledge at the weekend. We really enjoyed the visit and found lots of lovely crystals. It was great to have the help of such a friendly, welcoming team". B & D
"Just a quick note to thank you yet again for your superb service
tumbler ordered Monday morning at 7-00am
running Tuesday afternoon--fantastic service" T.J
"Thank you. My parcel arrived yesterday morning, and wow, the joy when I unpacked it. They are all so beautiful and magical. They are being cleansed at the moment and I can't wait to start working with them. Each piece is stunning in their own right but I think the smokey cluster is particularly magical, but they are all stunning. Thank you so much. And the speed in which were delivered was unexpected and I thank you. Also for the hand written note on the delivery invoice". L.M.
---
MAKING A PURCHASE
Making a purchase could not be easier. Just browse our Catalog, and click on any items that you wish to buy and put them into the shopping cart. After you have finished your selection, click on "Order" and you will be taken to our secure server where you will be asked for a few details that we need to be able to satisfy the order.
We accept Visa, Mastercard,Switch and American Express If you are shopping from North America or anywhere else, place your order and your credit card company will convert the transaction to US Dollars or your own currency.
We do not charge for any item until it is ready to ship. Back ordered items are not charged until they are shipped. You may send your credit card information via phone, fax, snail mail or over the Internet.
---
NEW LINES ADDED WEEKLY.
WE ARE CURRENTLY EXPANDING OUR WEB SITE BY ADDING LITERALLY HUNDREDS OF NEW LINES EVERY MONTH. PLEASE CHECK IN THE SECTIONS TO VIEW OUR CONSTANTLY CHANGING STOCK. WE ARE SURE THAT THERE IS SOMETHING THAT WOULD APPEAL TO EVERYONE. HAVE FUN BROWSING TO FIND THAT SPECIAL ITEM !.
---